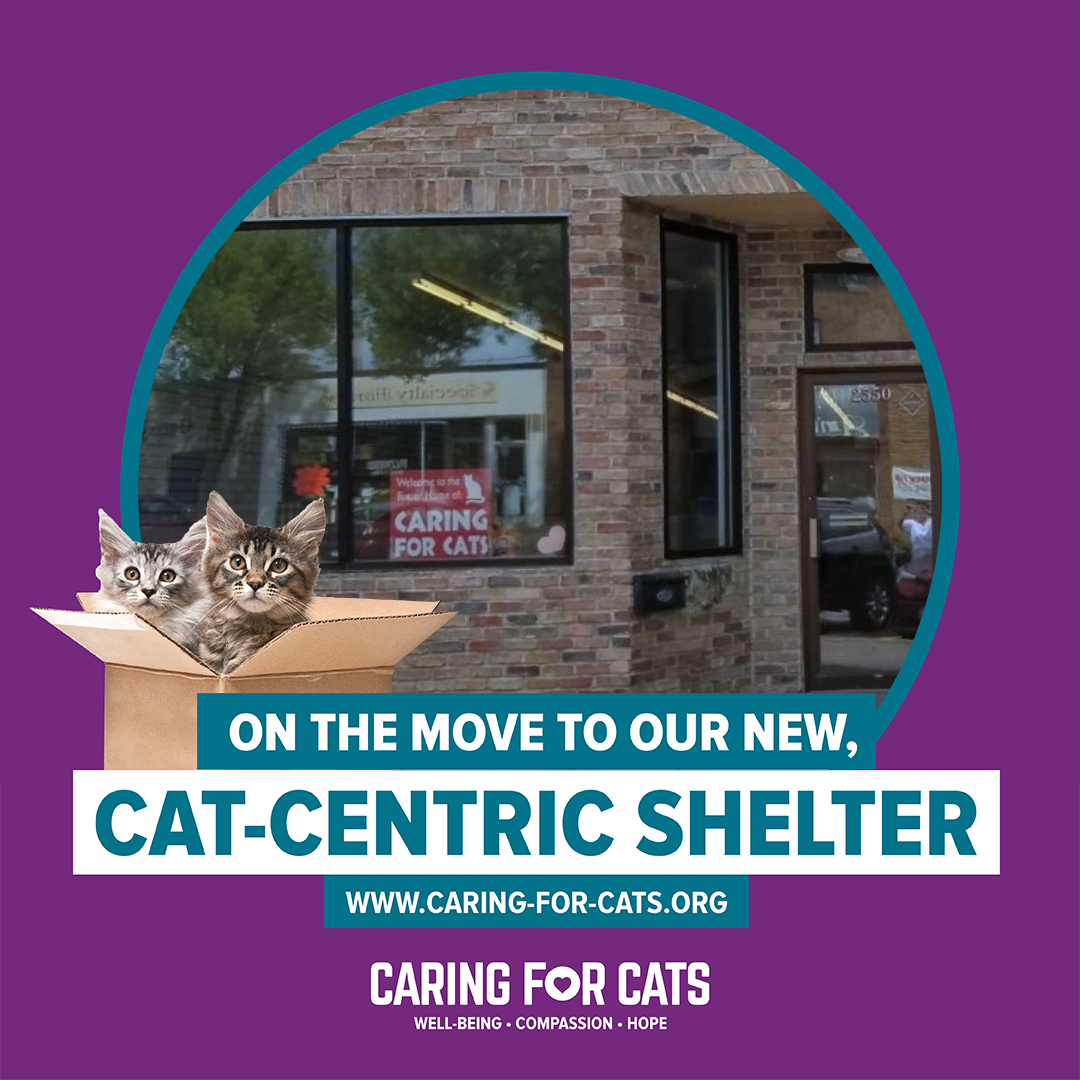 MAJOR ANNOUNCEMENT!
WE'RE MOVING!
We're moving to our new shelter at 2550 7th Ave E, North St Paul, Minnesota on January 25, 2021.
We will be closed for the move from January 6th until January 24th. There will be no adoption appointments booked during this time frame, but the kittes will be ready for adoption after we're open.
CFC Alumni, if you need to bring your CFC adopted kitty in for a nail trim, please call the shelter to make arrangements.
Stay up-to-date on all of the move news on our Facebook Page HERE.
These are exciting times and we know you're going to the new shelter (almost as much as the kitties.)
Welcome!
Adoption By Appointment
Cats and kittens residing at the shelter are available for adoption and looking for their forever homes.  However, as a precaution during this COVID-19 (coronavirus) pandemic, we will no longer have public hours for the shelter.  Instead, we will offer adoption by appointment only.  
Our highest priorities are the cats in our care, the volunteers who provide care, and our potential adopters.  We have moved to an adoption by appointment system in order to ensure the health and well-being of our caregivers and the community and still provide our kitties an opportunity to find loving homes. 
Please review this before submitting a request for a visit:
😻  You must be feeling well.
​😻  No air travel or cruise line travel in the last 14 days.
😻  Have no symptoms of acute respiratory illness (fever, cough, shortness of breath, loss of taste or smell).
😻  If you have or suspect you have been exposed to COVID-19 in the last 14 days do not visit us.
😻  Please refrain from visiting us if you have participated in in-person social gatherings with individuals outside your household during Governor Walz' 4-Week Dial Back period from November 20-December 18.
​
PLEASE CHOOSE A TIME BELOW TO VISIT THE SHELTER
✅ Each appointment will be one-hour long; this will allow for time to meet with the cat(s) to see if they are a good fit and process the actual adoption should you choose to adopt.
✅ Appointments are for one family or household, only four or fewer people from the immediate household will be allowed into our adoption areas for the appointment.  All visitors will be required to provide and wear face masks that completely cover the mouth and nose while in the shelter. This includes children age 2+.
✅ Please arrive on time for your appointment. If you are more than 10 minutes late, your appointment will be canceled and you'll need to reschedule.
✅ If using a GPS to drive to the shelter, please put in the FULL address, including the city, NORTH St. Paul.  Our address is 2550 7th Ave E., North St. Paul, MN.  CLICK HERE for a map and directions.  
What To Bring To Your Adoption Appointment
🎒 If you rent your home, please CLICK HERE for what you will need to supply.
🎒 The adopter's driver's license.
🎒 Cash, check, or credit card for adoption fee.
Thank you for your support of Caring for Cats and our felines looking for their forever homes.
NOTE:  After you book your appointment, you will get a confirmation email (along with a cancellation link, should you need it.)  If for any reason you can't make your appointment, use the link to cancel your appointment.  Our volunteers are waiting for you and if you cancel your appointment then someone else has the opportunity to visit one of our kitties.  And if you're looking for an appointment sooner than what's available, please check this page often because sometimes there are cancellations.  Please do not call the shelter for an adoption appointment.
STAY IN TOUCH
Get the inside scoop on upcoming events, shelter news, and kitty antics! Subscribe today!
Follow us on your favorite social media channel below.